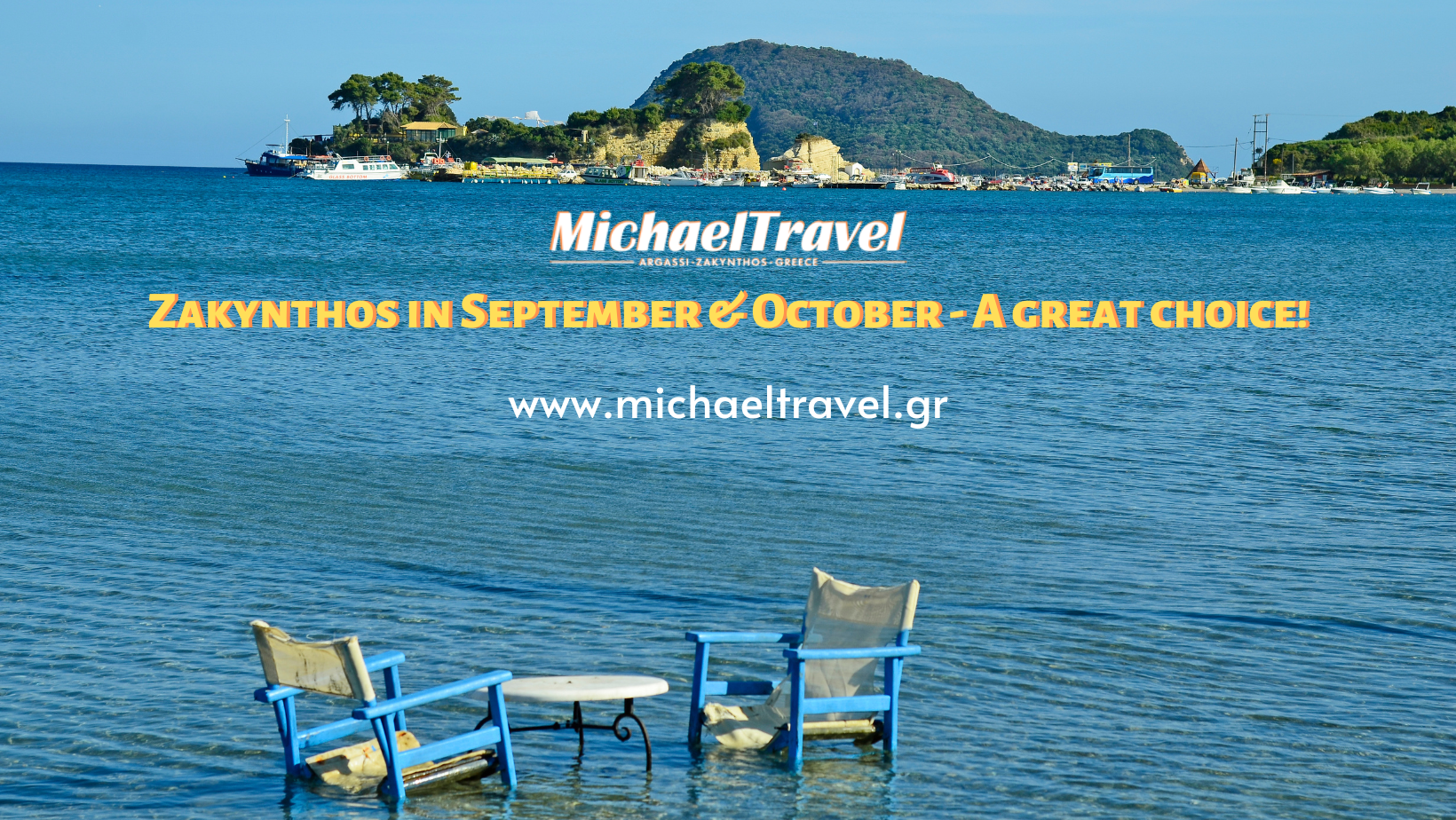 The late summer and autumn are one of the best times of year to visit Zante when the August crowds have gone home and the island starts to breathe again, but the temperature is still warm right through September and October.

After the August rush, the price of your holiday is likely to be a lot lower, and you'll probably find some great holiday deals if you shop around the web. To keep the costs of your holidays down even further, enjoy the simple pleasures of life on a Greek island.

In September and October, you can still enjoy a swim in the sea and see the natural beauty of the beaches.



Zakynthos in September & October – A great choice!
While most of the visitors travel to Zakynthos in August and July, it's probably another month that offers the best experience ..
Read why visiting Zakynthos in September & October is a great choice.
Still Summer!
Days in September & October are still warm but temperatures are a bit lower than August making it more comfortable to explore the island under the hot sun. Rains are rare and short.
Sea temperature is nearly the same as August making every dive, everywhere on the island, fun, while daylight is still long, over 12 hours with spectacular sunrises and sunsets!
HERE YOU CAN SEE ALL THE AVAILABLE CRUISES.


Less Crowds
September & October has also way fewer crowds than July and August. You can expect quieter times during your book reading moments on the beach.
Famous locations like Navagio (Smuggler's cove) or Zakynthos town will have less people and taking the perfect photo will be easier!
You can Book a Private Cruise Here
Roads will have less traffic, so you'll have more time in the places you like and enjoy!
You can Rent a Low-Cost Car Here


The full experience
All the restaurants, bars, clubs, and services are fully operational during September & October so you won't miss a thing!
Even more, reserving a table will be much easier, as booking for a service.


Costs Less!
They say you can't have it all in life!
They are wrong!
Along with all the previous benefits you will pay less too!
Due to lower demand, everything will be cheaper, from flights to accommodation, cruises, rental cars etc.
You can expect over 40% lower prices than high season!
While September & October might be difficult months to leave work or school in case you have kids if you have the chance we strongly recommend considering it visiting Zakynthos island.


Book Your Next Tour in Zakynthos with Michael travel.

Call us at +30 694 771 5780

Michael Travel
The travel agency that really cares