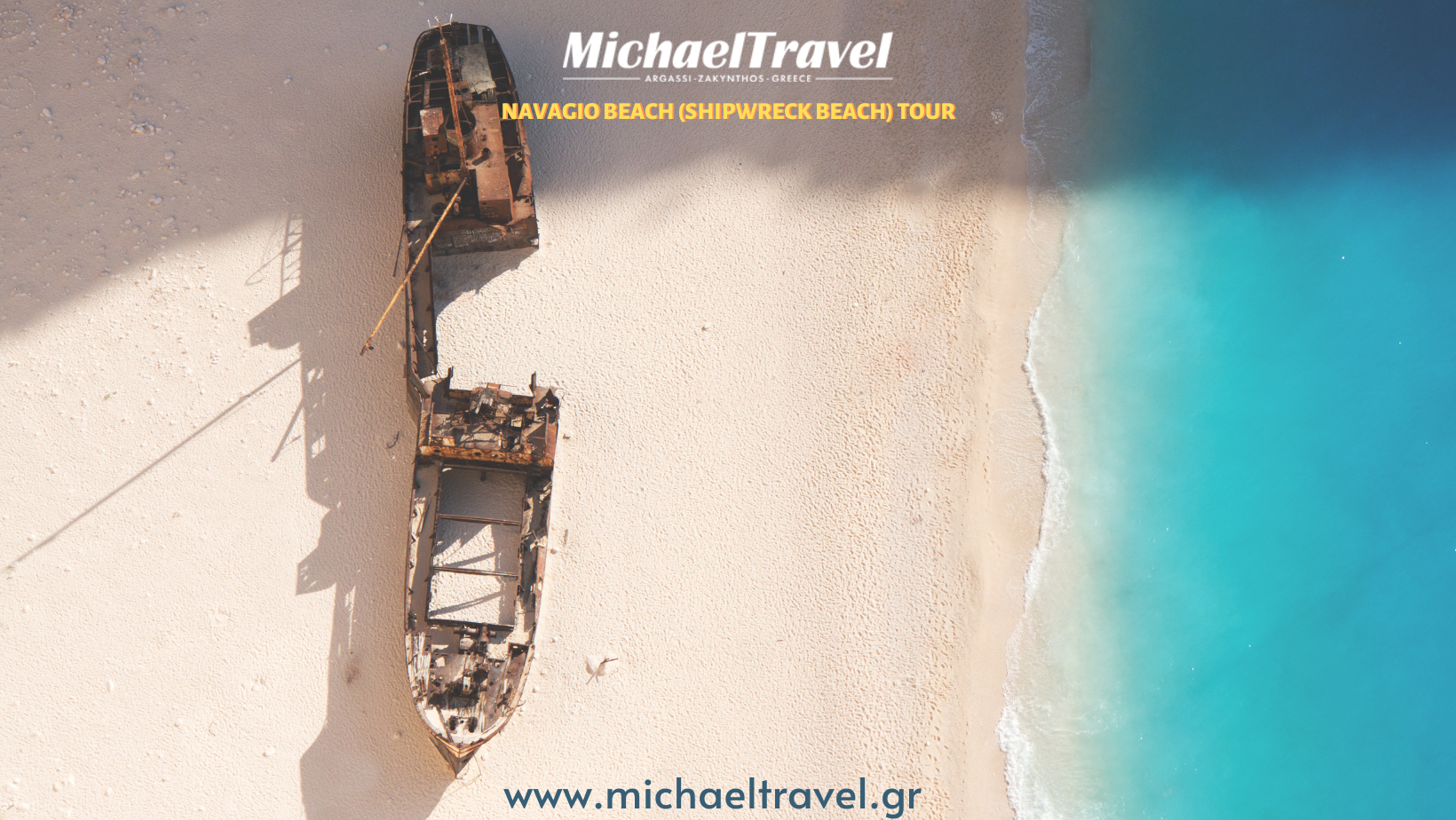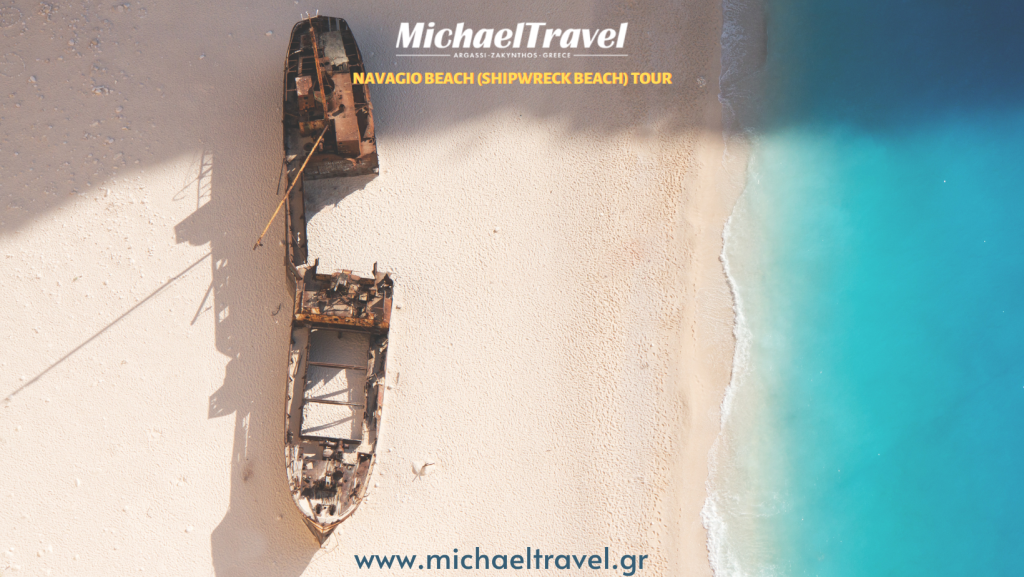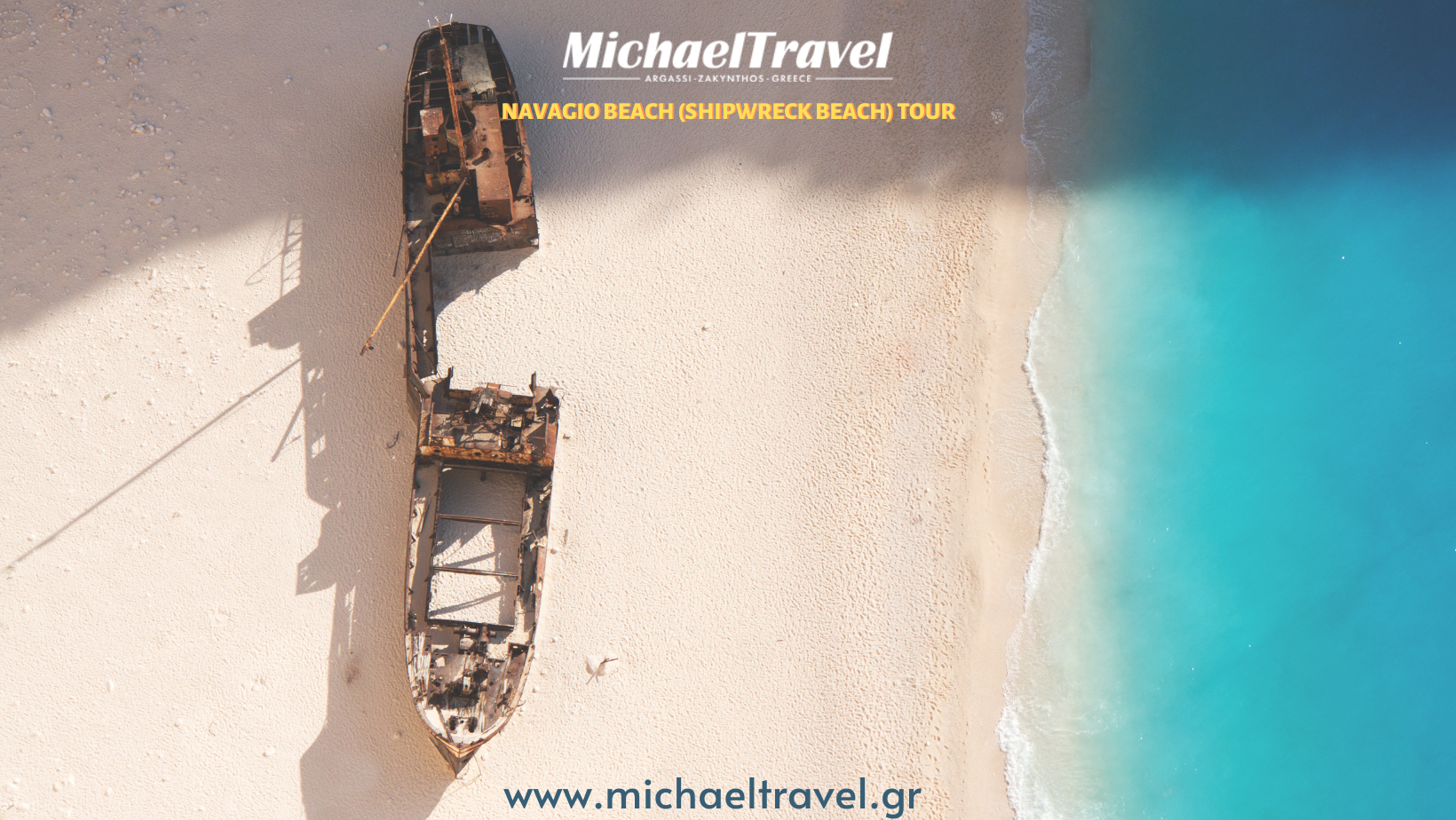 With white sand and marble cliffs, Navagio Beach (Shipwreck Beach)makes a striking setting for swimming and sunbathing. Set on sun-soaked Zakynthos island off the coast of Greece, Navagio Beach is a popular day trip destination. The beach's centerpiece is a long-abandoned freighter—the remains of a smuggler's shipwreck—that still languishes on the sands.

An unforgettable tour to the world-famous "Navagio" Beach and the amazing sea caves of the area. Enjoy the crystal blue waters & the breathtaking views

Tour Details
On this excursion, we will pick you up with our 7 or 8-seat luxurious Mercedes Minivan from our office in Argassi at 8:30 am. We will take you to the Shipwreck viewpoint from above the cliff mountain. Afterward, we are moving to St. Nicholas port cape to embark a wonderful adventure with our small capacity glass-bottom boat to the  Blue Caves. There you will have your first swimming stop inside the cave to enjoy the crystal clear blue waters and take pictures of this magnificent sightseeing. Coming back from the Blue Caves we will take you to the most beautiful beach of the Mediterranean and the Ionian Sea, the Shipwreck beach (smugglers cove)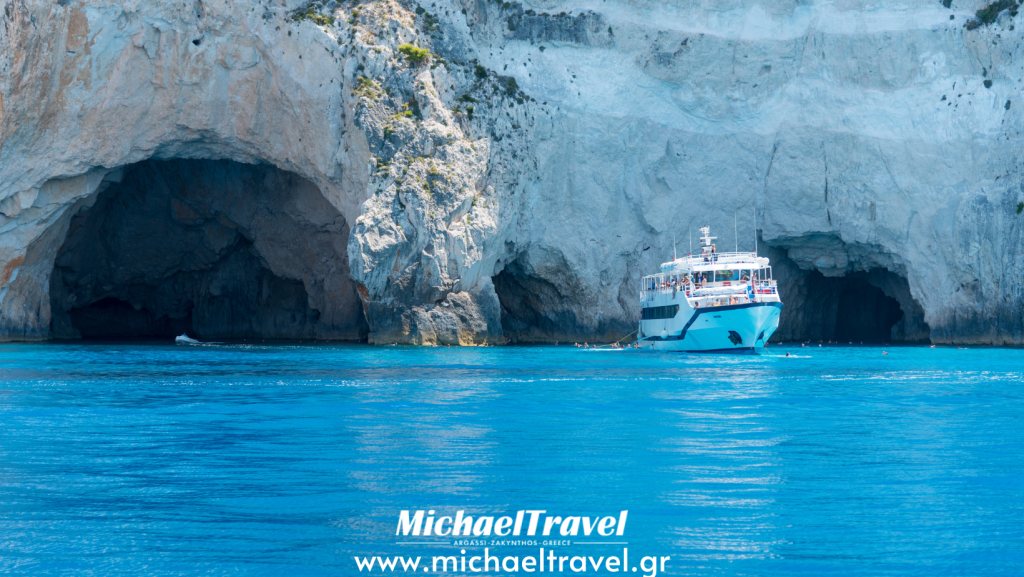 There you will spend one hour swimming & enjoying the 50 shades of blue of these amazing waters. After that, we will get back to the port. There will be an opportunity for an optional lunch at the windmill Skinari on the highest point of the north of the island. Then we get our deluxe minivan to go to our last stop, Xigia Beach Spa, where you will be able to enjoy yourself at this charming regular ocean spa which is filled of sulfur & collagen waters,  which revives your skin.
Departure & Return Location
Argasi Office (Google Map)
Departure Time
8:30 am
Duration
5-6 Hours
Itinerary
Stop 1-Shipwreck View Point (Above the cliff)
Stop 2- Traditional Olive Press
Cruise Starting Point – Skinari Lighthouse St. Nikolas Port
Stop 1-Blue Caves (Swimming and Photo stop)
Stop 2 -Shipwreck beach (Smugglers Cove)
Stop 3 -Xigia Beach
Book Online Your Ticket